Haciendo más grande la familia de fursuits desde 2017
---
---
Ursidae Fursuits
¡Te damos la bienvenida a la familia Ursidae!Dar vida a una fursona es un proceso que tomamos en serio y lo llevamos muy cerca de nuestro corazón. Creamos algo a la medida de las necesidades de nuestros clientes con mucho cariño y respeto.Nuestro compromiso es mejorarnos constantemente, a nivel servicio como a nuestros trajes: ¡Amamos los desafíos! nos encanta dar vida a diseños intrincados desarrollando nuevos estilos y nuevas tecnologías para lograrlo.Ursidae fue creado por Evo RedBear en 2017 quien ha trabajado muy duro para hacer crecer esta familia desde entonces.Evo es un gran oso pardo rojo de Buenos Aires, Argentina, tiene más de 12 años de experiencia en la fabricación de fursuits y siempre ha sido muy apasionado por ello. Poco después de crear Ursidae, Evo decidió dedicarse a la fabricación de fursuits a tiempo completo y no puede estar más orgulloso de tener el honor de hacer lo que ama.
Ursidae Fursuits
Welcome to the Ursidae Family!Bringing a fursona to life is a process that we take seriously and very close to our hearts, we don't have templates, we create something tailored to our customer needs with great love and respect.Our commitment is to constantly improve ourselves, the service and our suits: We love the challenges of bringing intricate designs to life developing new styles and new technologies to achieve it.Ursidae was created by Evo RedBear back in 2017 and he has been working very hard to grow that family ever since.Evo is a Big Red Grizzly Bear from Buenos Aires, Argentina, he has more than 12 years of experience in fursuit making and has been always very passionate about it, he is now dedicated full time towards Fursuit Making and he can't be more proud of doing what he loves.
---
Quotes and Commissions : CLOSED!
Next opening of commissions: January 2023
Fursuit Parts: Always Open, Use the contact button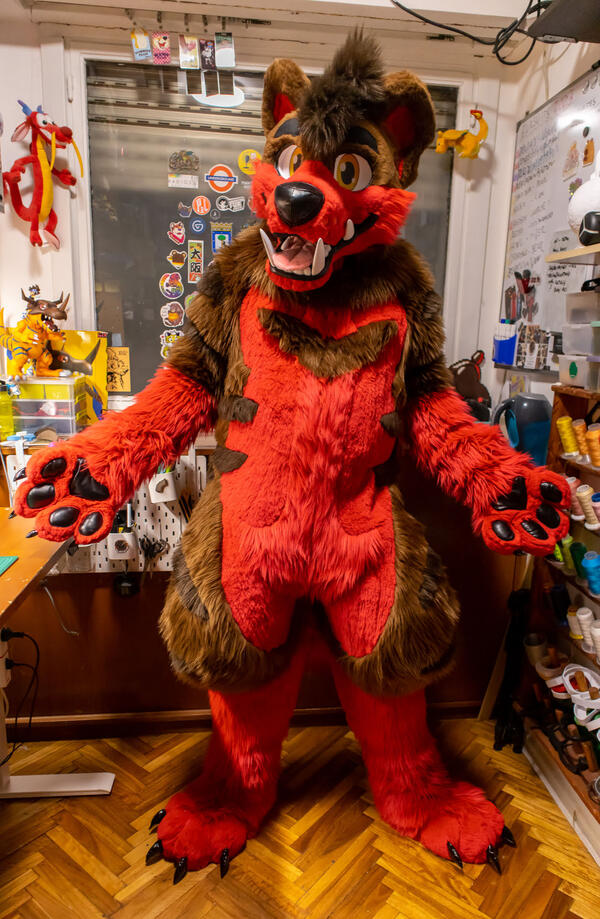 Full Fursuit Digitigrade
Starting at $2700
- Head
- Body with tail
- Digilegs
- Handpaws
- Indoor Footpaws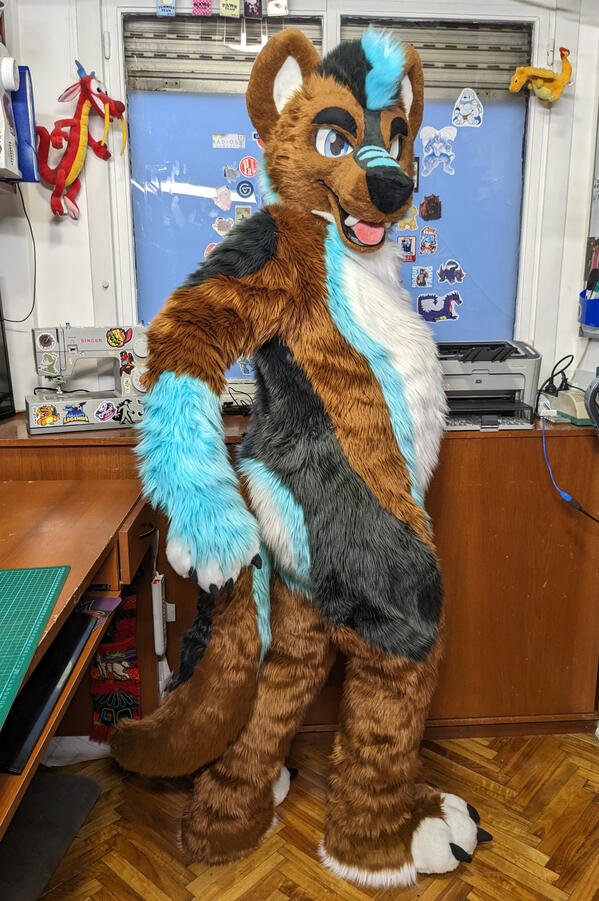 Full Fursuit
Starting at $2300
- Head
- Body with tail
- Handpaws
- Indoor Footpaws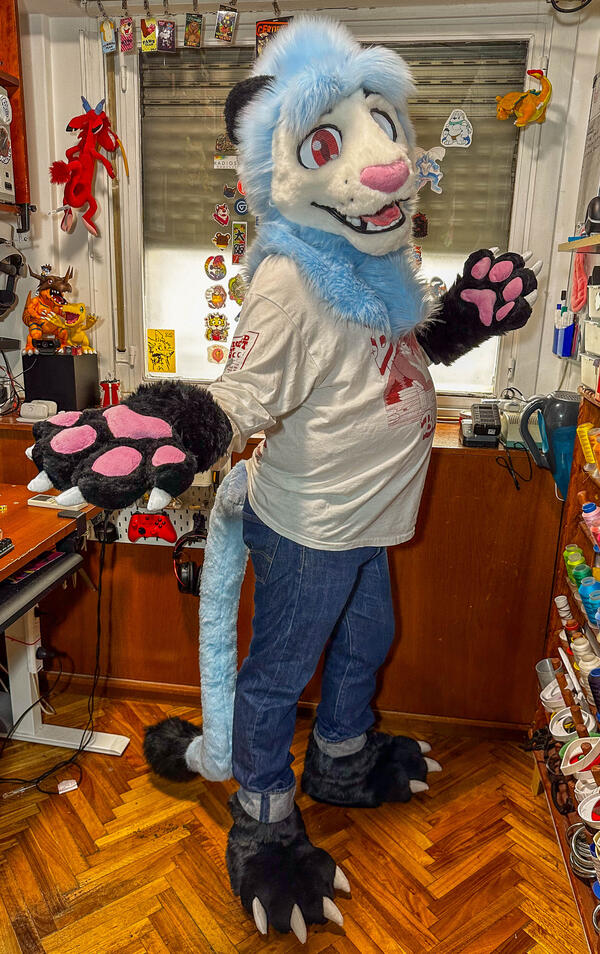 Partial Fursuit
Starting at $1750
- Head
- Tail
- Handpaws
- Indoor Footpaws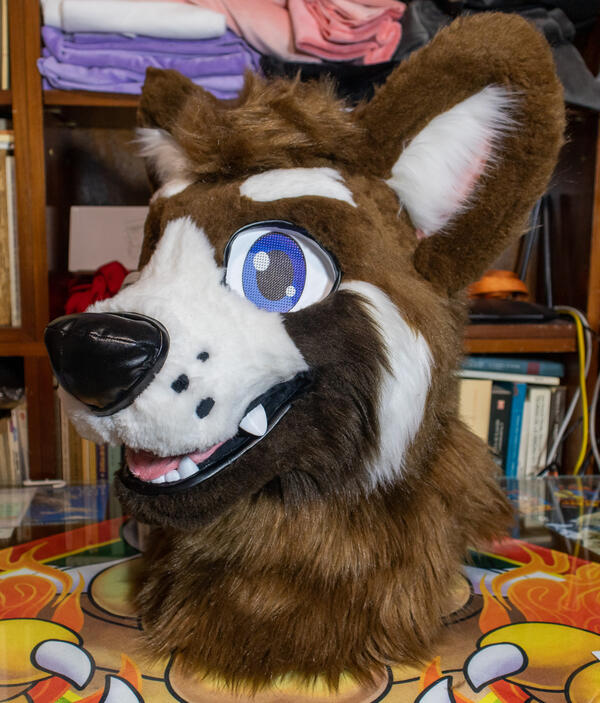 Fursuit Head
Starting at $1350
- Only Head Fursuit Parts: always open, use the Contact button- Bodysuit: $1200+
- Tail: $150+
- Arm Sleeves: $100+
- Indoor Paws: $250+
- Outdoor Paws: $300+
- Paws Sandals: $60
- Handpaws 4/5 digit: $200+
- BIG Handpaws 4/5 digit: $290+
Prices may vary due to complexity in design, number of colors, markings, stripes, adding or enhancing parts, etc. Prices are shown in USD. Shipping is not included.
---
PRESUPUESTOS Y COMISIONES : CERRADAS!
Próxima apertura de comisiones: Enero 2023
Partes de Fursuit: Siempre Abierto!, Usar boton contacto
Fursuit Completo Digitigrado
Desde $2700
- Cabeza
- Cuerpo con cola
- Piernas digi
- Manos
- Patas de interior
Fursuit Completo
Desde $2300
- Cabeza
- Cuerpo con cola
- Manos
- Patas de interior
Fursuit Parcial
Desde $1750
- Cabeza
- Cola
- Manos
- Patas de interior
Cabeza de Fursuit
Desde $1350
- Solo cabeza
Partes de Fursuit: siempre abiertas, utilizar el boton contacto.
- Cuerpo completo: $1200+
- Cola: $150+
- Brazos: $100+
- Patas de Interior: $250+
- Patas de Exterior: $300+
- Sandalias para Patas: $60
- Manos de 4/5 dedos: $200+
- Manos GRANDES: $290+
Los precios pueden variar por la complejidad, cantidad de colores, marcas, rayas, agregados o mejoras de partes, etc. Los precios se muestran en USD. El envio no esta incluido.
---
FAQ-How do I know if you are taking orders?On the main page you can easily see the status of commissions: if we are closed or open to new orders.-How can I contact you?You can send us your message / inquiry exclusively through the contact tab on the web.
If your interest is to contact us to request a quote for a fursuit, contact is made ONLY through a form that will be available on the web when we are open to commissions.-What do I need to order my full body Fursuit?You will need a reference featuring 2 or 3 views of your fursona / character with different profiles (front, side, back, etc) in flat color, specifying marks and details.If you don't have one, we recommend commissioning an artist, if you don't know one, we can suggest an artist who can do it for you.Important: Your character must be an original design, it cannot be a copy of another suit / fursona / character.-Can you do a suit without a reference?Yes, as long as it is an extremely simple design such as a black and white husky with blue eyes.
Keep in mind that jobs without reference, imply greater freedom and discretion in the way of executing the fursuit. The margins to make modifications during fabrication are much smaller.-What is a DTD?A DTD (Duct Tape Dummy) is a full-body cast made from a disposable painter's suit and duct tape.
The DTD is a great tool to be able to make complete Fursuits or Bodies, since they will be perfectly tailored to your measures.
Soon there will be a tutorial available on the web, but in the meantime we recommend you to look online for tutorials to make one, if you have any doubts you can always ask us about it.-What are the accepted means of payment?Paypal and for residents of Argentina, ask us about other means of payment in Argentine pesos.-How long will it take to make my fursuit?It depends a lot on the jobs in the pipeline, we are currently working taking no less than a year to finish orders.-Does my fursuit have a warranty?All suits have a 90 (ninety) day warranty, which applies in case of tears or breaks, in which case the repair will be free of charge. This excludes: wear of the material, holes that appear in the coat and are not from seams, any damage due to improper use (lack of brushing, fire burns, paint, chemicals, dirt, etc). If the work is altered by the owner or third parties, it loses the warranty instantly.-Where is the fur purchased?We have several fabric suppliers from the United States, we order there because they really have very good quality fur with a wide variety of colors.
When discussing the characteristics of your design and colors, we will be able to check for different options, alternatives and suppliers in particular.-Can I change my design after I have paid the deposit?Yes, before purchasing the fabrics it is possible to make changes in both design and colors, after purchasing fabrics, changes in colors will not be possible. Design changes can be requested until the beginning of the manufacturing process.
If the requested changes modify the complexity of the fursuit, the quoted value will be modified, such case will be duly communicated.-Do you make international shipments?Yes, shipments are made to any place worldwide, to be paid by the customer. We use courier services such as DHL or Fedex.-Is there a payment plan?When requesting your fursuit, a downpayment of 50% of the budgeted amount is required in terms of materials, slot reservation and advance for labor, from there and until the completion of your suit, it can be paid in previously agreed installments.-Can I order a fursuit for a copyrighted character?No.-If I am a minor, can I commission a fursuit?No, to order a fursuit you must be over 18 years of age.-Will I be able to see WIP photos of my fursuit?Of course! While the fursuit is going through the manufacturing process, WIP photos will be sent, also every so often we will do streams where we show how we work and we can publish previews on our social media.
If any of these circumstances make you uncomfortable or if you prefer that nothing be published until your fursuit is finished, please let us know when asking for a quote.-Can my fursuit incorporate LEDs or animatronic details?At the moment we do not work with these characteristics, but we do not rule out exploring the incorporation of these technologies to our fursuits in the future.-Where are you located, do you have a showroom or a store on the street?We are in the Autonomous City of Buenos Aires, Argentina, at the moment we do not have a showroom or a store on the street, everything we do is published online on our website and in Social Media.
. Ursidae - Terms and conditionsThe use of the services of "Ursidae" implies the knowledge and agreement of the following terms and conditions of service.To request a quote, you must be over 18 years of age.-Contact and inquiriesOpen / Closed Commissions: Check or web page to find out about their status.Questions, comments or messages will be received through any of our social media channels or email:Twitter: https://twitter.com/UrsidaeSuits
Instagram: https://www.instagram.com/ursidaesuits/
Facebook: https: // www.facebook.com/UrsidaeSuits/
Telegram Channel: https://t.me/Ursidaesuits
Telegram User: https://t.me/UrsidaeDirect
Email: ursidaesuits@gmail.com- QuotesTo request a quote you can contact us through our website.In order to estimate the cost of the work order, you need a reference of the character that we will be making the suit of.A good reference consists of:- 2 or 3 views of the fursona / character in different profiles in flat color. (front, side, behind, etc.)
- At least 2 views of the head in flat color (front and side).
- A detailed view of each particular / special feature/detail of the fursona (Tattoos, markings, accessories, patterns, etc.)According to the type of work requested, it will be the type of reference required. (A complete bodysuit will require full body references, while a partial suit or only a head will require just a detailed view of the head and maybe details for parts).Changes in the design of the fursuit: Once the initial payment of 50% has been made and without having started to work on the order yet, minor changes/details are possible as long as they do not alter the colors of the character. Changes may modify the budgeted labor cost according to its complexity and only up to 1 (one) change will be allowed.I do accept works without drawn references, but only on the assumption that I am given complete freedom to execute it. In case of not having a drawn reference, I know several artists who would be delighted to help you transform your vision into reality.In addition to the references, a series of measurements of your body will be needed, in order to take them, detailed instructions about how to do it will be provided.For fullsuit or body orders a DTD (Duct-tape Dummy) will be needed so that the measurements are as accurate as possible. Once done, the client will have to mail it to the Ursidae Workshop.As for materials, we work with Faux Fur (imported from the USA), it has a wide variety of colors, great durability and very good quality.Once all the references, measurements and choice of materials are provided, I will evaluate the work order to budget. In general, at this stage I will try to clear up all my doubts as well as express any consideration that may arise about the order (Details that may be of special complexity, technical impossibility / possibility, etc). The result of this preliminary stage will be a budget for the work order that will not include the cost of shipping.You must pay 50% of the budget as a downpayment, this allows us to acquire all the necessary materials (especially fabrics) for making your fursuit. Once the materials are bought, the deposit will not be refundable.All budgets will be valid for 10 days, if the first payment is not made within this period, a new budget must be made.The remaining 50% can be cancelled in installments or payment-on-delivery scheme according to what Ursidae and the client decide to agree on. Work orders that are pending payment will not be delivered.When designing your character, please bear in mind that sometimes there are very limited fabric colors. Every effort will be made to find the closest color to the reference and in case of differences the customer will be informed. If a perfect match color is impossible to find, a choice must be made in order to find a viable solution to be able to carry out the design as best as possible.We will not make fursuits that are exact copies of characters protected by Copyright, only if they are modified or inspired by the character can work with that. Example: a Digimon with unique markings, different color, and additions. You could do something amazing without exactly copying the character! ;D[Ursidae reserves the right to reject orders in case an agreement of design is not possible to reach.]- PaymentsThe final price of the Fursuit will be expressed in United States Dollars (USD).Residents in Argentina may pay all or part of the order in Argentine Pesos (ARS), using the "Sale" exchange rate published by. https://bluelytics.com.ar/#!/ as reference at the end of the day when the payment is made or on the previous business day if it is a payment made on a holiday or weekend. The amount paid will be deducted from the total in dollars.For Argentine Residents, we accept multiple means of payment: Bank deposit, Transfer, or Paypal. Bear in mind that some of them may have surcharges or taxes and commissions that their use generates and that are beyond the control of Ursidae, it is always advisable to ask before choosing one. In all cases, the client will have to pay those additional charges.For customers abroad, the only accepted mean of payment is Paypal.As mentioned in the previous section, the client has 10 days after receiving the budget to make the payment of 50% as a down payment, leaving the remaining 50% that must be paid before the delivery of the finished fursuit. Works that are pending payment will not be delivered.- Work in progressWhile the work is in the process of construction, photos of progress will be shown directly to the client, they may also be displayed on social networks at the discretion of Ursidae.- Deadlines and DeliveryAn approximate deadline will be given for the completion of the work but it can still vary, the construction of fursuits is a unique creative process for each fursuit that can vary greatly according to various factors (special orders, complex designs, new fabrics, etc), as well as according to the number of orders and / or other personal or external circumstances.Ursidae has the firm commitment and the vocation to improve and communicate continuously. Every effort will be made to finish in the shortest time possible without compromising the quality or appearance of our work.Once the complete payment of the budget has been verified and once the order is finished, it will be delivered by postal delivery / parcel / courier or in person ( The delivery in person is an option only if it is scheduled for a Furmeet in Buenos Aires or in a convention where Ursidae is present and / or has representation).Shipments are made to all the world, inquiry about the different prices/options and arrival dates!In the case of an Argentine Resident, orders are shipped to the entire country.The shipping cost must be paid apart from the final cost of the order, as it is not included in it.- RepairsAll fursuits have a 70 (seventy) day Warranty, which applies in case of tears or breaks, in that case it will be taken as a manufacturing error and the repair will be free of charge. This explicitly excludes: wear of the material, holes that appear in the fur and are not from seams, any damage due to improper use (lack of brushing, fire burns, paint, chemicals, dirt, etc). If the fursuit is altered in any way by the owner or third parties, it loses the guarantee instantly.- RefundThe possibility of refund in case of cancellation varies according to the status of the order:
The initial payment of 50% is non-refundable. The remaining 50% can be reimbursed, but it will be in an amount proportional to the work already done.
Once the work is finished, there is no possibility of any refund.- BreachIn case of breach in the payment plan or in any of these terms and conditions, Ursidae expressly reserves the right to retain the suit under construction, finish it and sell it to a third party after 365 days passed from the notification of order completion.---Please do not hesitate to ask any questions you may have in this regard![By accepting these terms you are assuming that you are ordering a Fursuit or some related part made entirely by hand, which may contain imperfections, defects and inconsistencies.]
---
Preguntas y Respuestas-¿Cómo sé si están tomando pedidos?En la página principal se puede ver fácilmente el estado de comisiones, si estamos cerrados o abiertos a nuevos pedidos.-¿Cuáles son las formas de contacto?Podes hacernos llegar tu mensaje/consulta exclusivamente a través de la pestaña de contacto en la web.
Si tu interés es el de contactarnos para solicitar un presupuesto para un fursuit, el contacto se realiza UNICAMENTE a través de un formulario que se habilita en la web cuando nos encontramos abiertos a comisiones.-¿Que necesito para poner encargar mi Fursuit de cuerpo completo?Vas a necesitar una referencia con 2 o 3 vistas de tu fursona/personaje en distintos perfiles en color plano. (de frente, de costado, de atrás, etc) especificando marcas y detalles.En caso de no tener una se recomienda comisionar a un artista, de no conocer, podemos recomendarte a algún artista que pueda hacerlo por tí.Importante: Tu personaje debe ser un diseño original, no puede ser una copia de otro traje/fursona/personaje.-¿Pueden hacer un trabajo sin referencia?Si, siempre y cuando sea un diseño extremadamente simple como por ejemplo un husky color blanco y negro con ojos azules.
Tene en cuenta que los trabajos sin referencia, implican mayor libertad y discrecionalidad en la forma de ejecutar el fursuit. Los márgenes para hacer modificaciones durante el trabajo son mucho menores.-¿Que es un DTD?Un DTD (Duct Tape Dummy) es un molde de cuerpo completo hecho con un traje de pintor (mameluco) descartable y cinta duct tape.
El DTD es una herramienta fundamental para poder confeccionar Fursuit completos o Cuerpos, dado que quedarán perfectamente a medida tuyo.
Próximamente habrá un tutorial disponible en la página, pero mientras tanto te recomendamos buscar por internet tutoriales para confeccionar uno, ante la duda siempre podes consultarnos al respecto.¿Cuáles son las formas de pago aceptadas?Paypal y para residentes de Argentina consultar por otros medios de pago en pesos argentinos.-¿Cuánto tiempo les lleva confeccionar mi fursuit?Depende mucho de los trabajos que haya en cola, actualmente estamos trabajando a un plazo no menor a 1 año.-¿Mi fursuit tiene garantía?Todas los trabajos cuentan con 90 (noventa) días de Garantía, que aplica en caso de rasgaduras o roturas, en ese caso el arreglo será sin cargo. Esto excluye: desgaste del material, agujeros que aparezcan en el pelaje y no sean de costuras, cualquier daño debido un uso incorrecto (falta de cepillado, quemaduras por fuego, pintura, productos químicos, suciedad, etc). Si el trabajo es alterado por el dueño o terceros pierde la garantía instantáneamente.-¿Dónde se adquiere el pelaje?Contamos con varios proveedores de telas en los Estados Unidos, encargamos allá porque realmente poseen muy buena calidad en pelajes y garantizan una amplia variedad de colores.
Al momento de discutir las características de tu diseño y colores, podremos ver distintas alternativas y proveedores en concreto.-¿Puedo cambiar mi diseño después de haber pagado el depósito?Si, hasta antes de adquirir las telas es posible hacer cambios tanto en diseño como en los colores, luego de la compra de telas, los cambios en los colores no serán posibles. Los cambios en diseño se pueden solicitar hasta el comienzo del proceso de manufactura.
Si los cambios solicitados modifican la complejidad del fursuit, se modificará el valor presupuestado, tal circunstancia será debidamente comunicada.-¿Hacen envíos internacionales?Si, se realizan envíos a todo el mundo, a pagar por el cliente. Normalmente se utilizan servicios de courier como DHL o Fedex.-¿Hay algún plan de pagos?Al solicitar tu fursuit, se pedirá un adelanto del 50% del monto presupuestado en concepto de material, reserva de lugar y anticipo por mano de obra, a partir de allí y hasta la finalización de tu traje, se puede abonar en pagos acordados con anterioridad.-¿Se pueden encargar personajes con derechos de autor?No.-¿Si soy menor, puedo comisionar un fursuit?No, para encargar un fursuit tenés que ser mayor de 18 años de edad.-¿Podré ver fotos de mi pedido en curso?Por supuesto, cuando el fursuit está en proceso de fabricación se enviaran fotos de progreso, asimismo cada tanto organizamos streams donde mostramos como trabajamos y podemos ir publicando anticipos en nuestras redes sociales. Si cualquiera de estas circunstancias te incomoda o preferís que nada se publique hasta que tu fursuit esté terminado, te pedimos que nos lo hagas saber al momento de presupuestar tu trabajo.-¿Puede mi fursuit incorporar leds o detalles animatrónicos?Por el momento no trabajamos con estas características, pero no descartamos explorar la incorporación de estas tecnologías a nuestros fursuits en el futuro.-¿Dónde están ubicados, tienen un showroom o un local a la calle?Estamos en la Ciudad Autónoma de Buenos Aires, Argentina, por el momento no disponemos de un showroom ni de un local a la calle, todo lo que hacemos lo publicamos en nuestra página web y en nuestras Redes Sociales.
Ursidae - Terminos y condicionesLa utilización de los servicios de "Ursidae" implica el conocimiento y conformidad de los siguientes términos y condiciones de servicio.Para solicitar un presupuesto es necesario ser mayor de 18 años. Contacto y consultasComisiones Abiertas/Cerradas: Revisar la pagina web para tener conocimiento de su estado.Consultas, dudas o contacto se pueden enviar un mensaje directo en las redes sociales o Email de UrsidaePagina Princial: https://Ursidaesuits.com
Twitter: https://twitter.com/UrsidaeSuits
Instagram: https://www.instagram.com/ursidaesuits/
Facebook: https://www.facebook.com/UrsidaeSuits/
Telegram Channel: https://t.me/Ursidaesuits
Telegram User: https://t.me/UrsidaeDirect
Email: Ursidaesuits@Gmail.com Presupuesto y orden de trabajoPara pedir un presupuesto se puede contactar por medio de cualquiera de nuestras redes sociales (Twitter, Facebook, Instagram o Telegram. Todas se pueden encontrar facilmente buscando @Ursidaesuits)A fin de estimar el costo del trabajo, se necesita una referencia del personaje sobre la cual se basará la confección del traje.Una buena referencia base consta de:- 2 o 3 vistas de la fursona/personaje en distintos perfiles en color plano. (de frente, de costado, de atrás, etc)
- Al menos 2 vistas de la cabeza en color plano (frente y perfil).
- Una vista en detalle de cada rasgo particular/especial de la fursona (Tatuajes, marcas, accesorios, patrones, etc)De acuerdo al tipo de trabajo solicitado, será el tipo de referencia requerido. (un traje completo con body, va a requerir referencias de cuerpo entero, que un traje parcial o solo una cabeza no requerirá).Cambios en el diseño del fursuit: Hecho el pago inicial del 50% y sin haber comenzado aún el trabajo, es posible hacer cambios menores/detalles que no alteren los colores del personaje. Los cambios podrán modificar el costo de mano de obra presupuestado de acuerdo a su complejidad y solo se admitirá hasta 1 (un) cambio.Acepto trabajos sin referencias dibujadas, pero solo en el supuesto que se me otorgue total libertad para ejecutarlo. En caso de no contar con referencia dibujada conozco varios artistas que estarian encantados de poder ayudarte a transformar tu visión en realidad.Además de las referencias, es necesario tomar una serie de medidas con cinta métrica, para ello se facilitará un instructivo detallado y muy simple.Para los pedidos de fullsuit o cuerpos será necesario realizar un DTD (Duct-tape Dummy) para que las medidas sean lo más precisas posibles, una ves hecho se deberá enviar al Taller de Ursidae.Se trabaja con Faux Fur (Pelaje importado de EEUU). el cual tiene una gran variedad de colores, enorme durabilidad y muy buena calidad.Entregadas todas las referencias, medidas y elección de materiales, evaluaré la orden de trabajo para presupuestar. Por lo general en esta etapa buscaré despejar todas mis dudas como así expresar cualquier consideración que surja sobre el trabajo (Detalles que puedan resultar de especial complejidad, imposibilidad / posibilidad técnica, etc). El resultado de esta etapa previa será un presupuesto por la orden de trabajo que no incluirá el costo del envio.Se debe abonar un 50% del presupuesto en concepto de seña, la misma es necesaria a fin de poder adquirir todos los materiales necesario(en especial las telas) para la confección del fursuit.Todo presupuesto tendrá una validez de 10 días, si no se realiza el primer pago dentro de este plazo, se deberá realizar un nuevo presupuesto.Una vez comprados los materiales, el depósito no será reembolsable.El 50% restante puede acordarse en un régimen de cuotas o de pago a entrega de acuerdo a lo que Ursidae y el cliente decidan convenir. No se entregarán trabajos que se encuentren pendientes de pago.Cuando haga el diseño de tu personaje por favor tener en cuenta que hay colores de telas limitados, Se hará lo posible por encontrar el color más cercano y será informado al cliente para su visto bueno. En caso de ser imposible se verá de buscar una solución viable para poder llevar a cabo el mejor diseñoNo se hacen copias exactas de personajes protegidos con derechos de Autor, solamente si están modificados o se inspiran en el personaje se podrá trabajar con eso. Ejemplo: un Digimon con marcas únicas, color distinto y agregados. Tu podrías hacer algo increíble sin necesidad de copiar exactamente al personaje! ;D[Ursidae se reserva el derecho de rechazar trabajos en caso de no poder llegar a un acuerdo de diseño.] PagosEl precio final del Fursuit estará expresado en Dolares Estadounidenses (USD).Los Argentinos o Residentes de Argentina podrán abonar la totalidad o parte del trabajo en Pesos Argentinos (ARS), se tomará como referencia el tipo de cambio "Venta" publicado por https://bluelytics.com.ar/#!/ al cierre de la jornada cuando se efectúe el pago o del día hábil anterior si se trata de un pago efectuado un dia feriado o fin de semana. El monto abonado se descontará del total en dólares.Para Residentes Argentinos, aceptamos multiplicidad de medios de pago: Deposito bancario, Transferencia, o Paypal. Tener en cuenta que algunos de ellos, pueden tener recargos atento a los impuestos y comisiones que su uso generan y que escapan al control de Ursidae, siempre conviene preguntar antes de escoger uno.Para los clientes en el exterior el único medio de pago aceptado es Paypal.Como se mencionó en el apartado anterior, el cliente tiene 10 días de recibido el presupuesto para efectuar el pago del 50% en concepto de seña restando el 50% que deberá ser pagado antes de la entrega del traje terminado. No se entregarán trabajos que se encuentren pendientes de pago. Trabajo en progresoMientras el trabajo se encuentre en proceso de construcción se mostraran fotos de avances directamente al cliente, las mismas podrán ser también exhibidas en las redes sociales a discreción de Ursidae. Plazos y EntregaSe dara un plazo aproximado para el finalizado del trabajo pero aun asi puede variar, la construcción de fursuits es un proceso creativo único para cada traje que puede variar enormemente de acuerdo a diversos factores (pedidos especiales, diseños complejos, telas nuevas, etc), como así también de acuerdo a la cantidad de pedidos y/u otras circunstancias personales o externas.Ursidae tiene el firme compromiso y la vocación de mejorar y comunicar continuamente. Se hará el mejor esfuerzo para terminar en el menor tiempo posible sin comprometer la calidad o el aspecto de nuestros trabajos.Verificado el pago del 100% del presupuesto y una vez completado el trabajo se entregará por envío postal/encomienda/courrier o en persona (La entrega en persona procede sólo si se pauta para alguna Furmeet de Buenos Aires o en alguna convención en donde Ursidae este presente y/o tenga representación).Se realizan envíos a todo el Mundo, consultar los diferentes precios y tiempo de llegada de los mismos!En caso de Residente Argentino se realizan encomiendas a todo el país.El costo de envío se debe abonar aparte del costo final trabajo, por no estar incluido en el mismo. ReparacionesTodas los trabajos cuentan con 70 (setenta) días de Garantía, que aplica en caso de rasgaduras o roturas, en ese caso se tomará como error propio y el arreglo será sin cargo. Esto excluye: desgaste del material, agujeros que aparezcan en el pelaje y no sean de costuras, cualquier daño debido un uso incorrecto (falta de cepillado, quemaduras por fuego, pintura, productos químicos, suciedad, etc). Si el trabajo es alterado por el dueño o terceros pierde la garantia instantáneamente. ReembolsoLa posibilidad de reembolso en caso de cancelación varía de acuerdo al estado de la orden:
El pago inicial del 50% no tiene reembolso. Sobre el 50% restante se puede proceder a su reembolso, pero será de un monto proporcional al trabajo ya realizado.
Terminado el trabajo, no existe posibilidad de reembolso alguno. IncumplimientoEn caso de incumplimiento en el plan de pagos o en cualquiera de los puntos de estos términos y condiciones, Ursidae se reserva expresamente el derecho de retener el traje en construcción, modificarlo, terminarlo y venderlo a un tercero pasados los 365 días de notificada la finalización del trabajo.---Por favor no dude en consultar todas las dudas que tenga al respecto![Aceptando estos terminos estás dando por entendido que está pidiendo un Fursuit o alguna parte relacionada hecha totalmente a mano pudiendo llegar a contener imperfecciones, defectos e inconsistencias.]